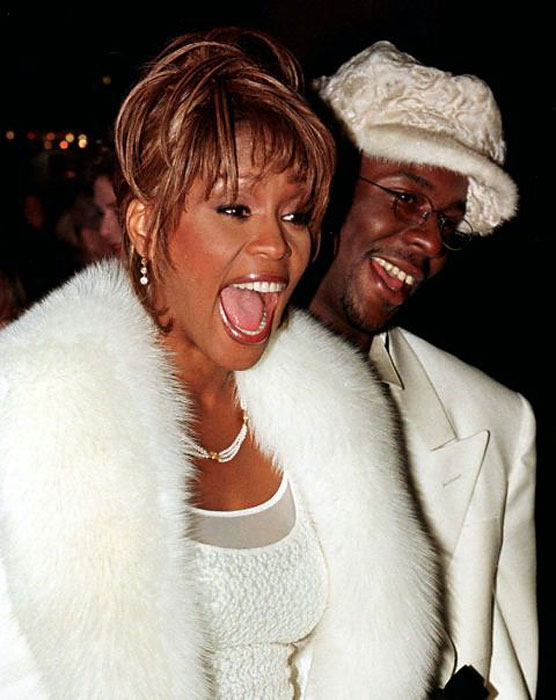 Whitney Elizabeth Houston (August 9, 1963 – February 11, 2012) was an American recording artist, actress, producer, and model.Throughout the 1980s, Houston was romantically linked to American football star Randall Cunningham and actor Eddie Murphy, whom she dated. She then met R&B singer Bobby Brown at the 1989 Soul Train Music Awards. After a three-year courtship, the two were married on July 18, 1992. On March 4, 1993, Houston gave birth to their daughter Bobbi Kristina Houston Brown, her only child, and his fourth. Brown would go on to have several run-ins with the law, including some jail time. On February 11, 2012, Houston was found dead in her guest room at the Beverly Hilton Hotel, in Beverly Hills, California, of causes not immediately known.
Bobby Brown, ex-husband of late song diva, Whitney Houston angrily walked out of Whitney's funeral on Saturday, February 18, 2012, just shortly he arrived for the funeral.
Bobby reportedly left New Hope Baptist Church, Newark, New Jersey, the venue of Whitney's funeral due to some misunderstanding with security personnels over seating arrangement.
According to reports monitored by Nigeriafilms.com, Bobby was denied seating spaces for all of his 9-man entourage. This development angered the ex-wife of the late singer, which led to him leaving the funeral in anger.
Meanwhile, Bobby later released a statement on why he angrily left the church venue of the funeral. A text of is produced below;
"My children and I were invited to the funeral of my ex-wife Whitney Houston. We were seated by security and then subsequently asked to move on three separate occasions.
I fail to understand why security treated my family this way and continue to ask us and no one else to move.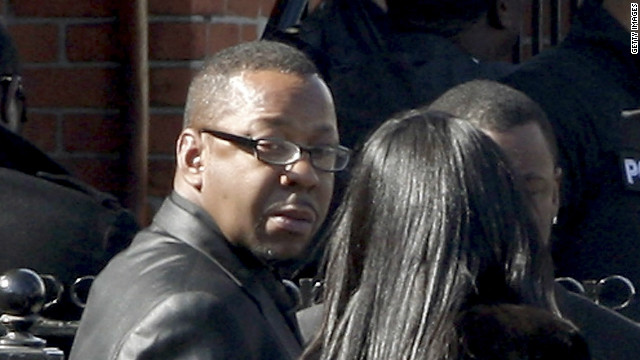 Security then prevented me from attempting to see my daughter Bobbi-Kristina. In light of the events, I gave a kiss to the casket of my ex-wife and departed as I refused to create a scene. My children are completely distraught over the events.
This was a day to honor Whitney. I doubt Whitney would have wanted this to occur. I will continue to pay my respects to my ex-wife the best way I know how."