Last week Friday February 10,2012 was a bad day for Island social circuit as one of the most popular Big girls on Lagos Island Suzy Q (Susan Yusuf),was stabbed to death by her friend and personal assistant simply known as Idris Muhammed who also died in the process..
Close source revealed that Susan Yusuf was stabbed at three specific places-the right and left arm and the right side of the stomach.
The bubbly dark complexioned Delta born lady who owned Island popular Lounge, SQ Lounge, was murdered in her 1004 Victoria Island,flat.While trying to escape,Idris fell from the 6th floor and also died in the process.What could have led to brutal murder of Suzy Q no one can ascertain but information reaching us,have it that,the unfortunate happened after a hot argument between the duo.
Insiders squealed to us that Suzy Q and Idris were so close that he often slept at her place.
This gave credence to the insinuation by neighbours that they were lovers.
However,one of her aides,who spoke to us under anonymity begged to differ on this. Yes,it is true that he passed the night at her place at times.She trusted Idris like a confidant and when they returned late from the club,he slept there because he drove her at times.That does not mean they were sexual partners.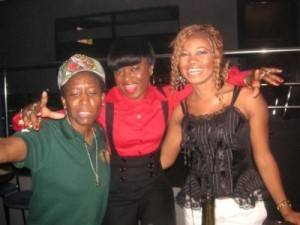 They were not dating. Also,her close friend,who is a celebrated artist has this to say under anonymity, She wasn't dating him.That I can attest to.He dated Fons,a white guy for 12years but they were never married.They broke up over a year ago
Her last press interview was on Friday,February 10,2012.Four hours before she was gruesomely murdered.She opens up on her break-up with Mo-Hits D'Prince over Jonzing Club.
What happened was that in 2009,when the economic meltdown started,most of my clients were matured people.I didn't have young clientele in their 20s like what is obtained in other clubs like Movida and the rest.
That affected me.I decided to include the younger generation too.I spoke with a friend who advised that I get the service of a celebrity instead of engaging service of a public relations officer.I agreed because I discovered club owners use celebrities.They believe that by hosting them,they will also win their fans.
I was linked up with D'Prince since he is a member of the Mo'Hits crew.I engaged his service to take my club to another level but I never knew they are coming here to use this place as a charity organization club.
I only found that when checking the account book,money was missing.I asked the manager and she said they told her not to worry that they will collect the money.Since they started working with me in September 28,2011,that was when the credit facilities started.
That's from September till November 28,2011 when I kicked them out.The outstanding debt they incurred till November 2011 has not been paid.They kept giving me excuses.
Meanwhile,the case has not yet finished.I want to take them to court and make sure my N9 million is paid.
That's the debt they incurred within two months.
Jonzing is not a partnership thing.D'Prince came in as my PRO.
He didn't contribute a dime.I can say it to his face.